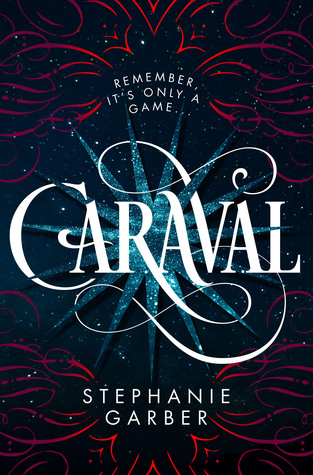 Title: Caraval
Author: Stephanie Garber
Series: Caraval (#1)
Published by: Flatiron Books (January 31, 2017)
Pages: 407 (Hardcover)
Rating: 3/5
Caraval was one of my most anticipated debuts for 2017, and there was tons of hype surrounding this book. But, unfortunately for me – it didn't live up to it. Its not a bad book by any means, I just didn't love it like I was hoping I would.
"Briefly, Scarlett let herself imagine what it would be like to go to Legend's private isle, to play the game and win the wish. Freedom. Choices. Wonder. Magic."
Scarlett and her sister Tella have never left the tiny island they live on with their abusive father*. But, Scarlett has always dreamed of experiencing the mysterious Caraval hosted by the powerful magician Legend. A week before Scarlett is to be married, her ticket finally arrives and with the help of a new "friend," Tella and Scarlett make their way to the show. But upon their arrival, Tella is abducted by Legend. As it turns out, the winner of this year's Caraval is the first person to find her.
Scarlett is warned repeatedly not to fall under the lure of Caraval – that it is all a performance. But she still gets swept up in the game. And even as she begins to question everything, she can't give up because if she doesn't finder her sister before the 5 days of Caraval are over, she may never see her again.
"Whatever you've heard about Caraval, its doesn't compare to the reality. Its more than just a game or a performance. Its the closest you'll ever find to magic in this world."
The book is interesting to be sure – its full of magic and mystery. And the writing is beautiful (think Laini Taylor). I loved all the descriptions of Caraval. It reminded me a lot of the market in Stardust when Dunstan asks how much a flower costs. And, he's told that it might be the color of his hair or all his memories before he was 3. Caraval is like that. You don't pay for things with funds, but with secrets or truths or even days of your life. In addition to the Caraval competition, there is also a love story in here. And, though its pretty insta-lovey, by the end of the novel, I found that I really didn't mind.
"Not quite sure how far she'd already fallen, she imagined loving him would feel like falling in love with darkness, frightening and consuming yet utterly beautiful when the stars come out."
So why only 3 stars? The reason for that is twofold. Firstly, there is very little character development or world-building. The story relies heavily on the metaphor to give atmosphere to Caraval – but we are provided with very little concrete information about the world in which Tella and Scarlette live. And Tella herself is a pretty two-dimensional character despite being central to the story. And secondly, once the plot was resolved, I was pretty "meh"about it. It was a case of all tell and very little show which is pretty frustrating for me. And, like Caraval itself, I felt a little like I'd been tricked.
But, I do think the "moral" of the story is really wonderful. Because at its heart, Caraval is about the bond between two sisters, and the power of hope and faith in the people you love. I just wish the focus had been more on that rather than this complicated mystery and big reveal.
"Every person gets one impossible wish, if the person wants something more than anything, and they can find a bit of magic to help them alone."
So if you are going into this because you love The Night Circus, you may be disappointed. Partly because I think its almost unfair to expect anything to live up to the beauty of Erin Morgenstern's masterpiece. But also because you won't find the heartfelt slow burn romance of Marco and Celia or the well developed characters and plot you may be expecting.
But, I still think Caraval is worth the read because it holds a lot of promise, and the epilogue has ensured that I'm going to pick up Book 2. Because despite all my issues with the first installment, I do want to know what happens next.
*There are multiple scenes showing/implying abuse perpetrated by girls' father so if that is a trigger for you – please be aware.