This week's Top 5 Wednesday is all about debut books we are excited for. A debut book is the first fiction novel published by an author. So, without further adieu, here are the 5 debut novels I'm most excited for: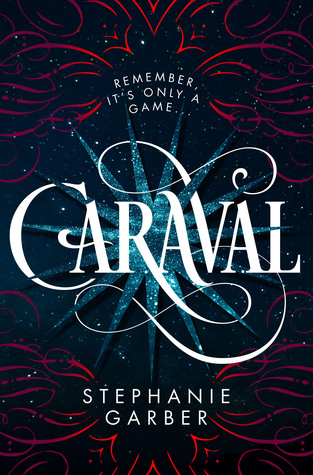 1. Caraval by Stephanie Garber

Goodreads Blurb: "Welcome, welcome to Caraval―Stephanie Garber's sweeping tale of two sisters who escape their ruthless father when they enter the dangerous intrigue of a legendary game."
Scarlett has never left the tiny island where she and her beloved sister, Tella, live with their powerful, and cruel, father. Now Scarlett's father has arranged a marriage for her, and Scarlett thinks her dreams of seeing Caraval, the far-away, once-a-year performance where the audience participates in the show, are over.
But this year, Scarlett's long-dreamt of invitation finally arrives. With the help of a mysterious sailor, Tella whisks Scarlett away to the show. Only, as soon as they arrive, Tella is kidnapped by Caraval's mastermind organizer, Legend. It turns out that this season's Caraval revolves around Tella, and whoever finds her first is the winner.
Scarlett has been told that everything that happens during Caraval is only an elaborate performance. But she nevertheless becomes enmeshed in a game of love, heartbreak, and magic with the other players in the game. And whether Caraval is real or not, she must find Tella before the five nights of the game are over, a dangerous domino effect of consequences is set off, and her sister disappears forever."
I am so excited to read this book. The early reviews are fantastic, and I can't wait to explore this world for myself.
View the Goodreads page here.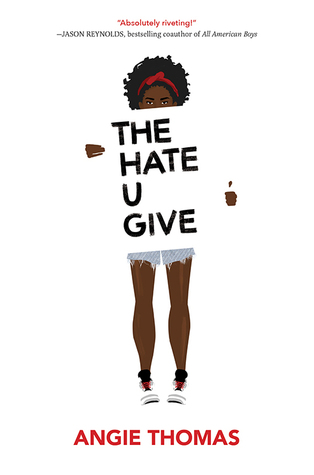 2. The Hate U Give by Angie Thomas

Goodreads blurb: "Sixteen-year-old Starr lives in two worlds: the poor neighbourhood where she was born and raised and her posh high school in the suburbs. The uneasy balance between them is shattered when Starr is the only witness to the fatal shooting of her unarmed best friend, Khalil, by a police officer. Now what Starr says could destroy her community. It could also get her killed. Inspired by the Black Lives Matter movement, this is a powerful and gripping YA novel about one girl's struggle for justice."
This book was inspired by the Black Lives Matter movement, and the early buzz is fantastic. The topic is incredibly timely and incredibly important. And, I'm very excited to dive into this story.
View the Goodreads page here.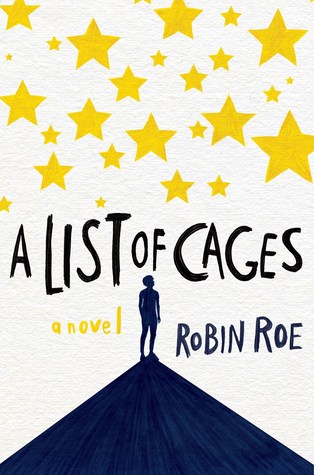 3. A List of Cages by Robin Roe

Goodreads blurb: When Adam Blake lands the best elective ever in his senior year, serving as an aide to the school psychologist, he thinks he's got it made. Sure, it means a lot of sitting around, which isn't easy for a guy with ADHD, but he can't complain, since he gets to spend the period texting all his friends. Then the doctor asks him to track down the troubled freshman who keeps dodging her, and Adam discovers that the boy is Julian–the foster brother he hasn't seen in five years.
Adam is ecstatic to be reunited. At first, Julian seems like the boy he once knew. He's still kind hearted. He still writes stories and loves picture books meant for little kids. But as they spend more time together, Adam realizes that Julian is keeping secrets, like where he hides during the middle of the day, and what's really going on inside his house. Adam is determined to help him, but his involvement could cost both boys their lives."
This sounds like a fantastic contemporary read. And I especially love that the main character has ADHD – and I'm very interested to see how that topic is handled.
View the Goodreads page here.
4. The Bear and the Nightingale by Katherine Arden

"At the edge of the Russian wilderness, winter lasts most of the year and the snowdrifts grow taller than houses. But Vasilisa doesn't mind—she spends the winter nights huddled around the embers of a fire with her beloved siblings, listening to her nurse's fairy tales. Above all, she loves the chilling story of Frost, the blue-eyed winter demon, who appears in the frigid night to claim unwary souls. Wise Russians fear him, her nurse says, and honor the spirits of house and yard and forest that protect their homes from evil.
After Vasilisa's mother dies, her father goes to Moscow and brings home a new wife. Fiercely devout, city-bred, Vasilisa's new stepmother forbids her family from honoring the household spirits. The family acquiesces, but Vasilisa is frightened, sensing that more hinges upon their rituals than anyone knows.
And indeed, crops begin to fail, evil creatures of the forest creep nearer, and misfortune stalks the village. All the while, Vasilisa's stepmother grows ever harsher in her determination to groom her rebellious stepdaughter for either marriage or confinement in a convent.
As danger circles, Vasilisa must defy even the people she loves and call on dangerous gifts she has long concealed—this, in order to protect her family from a threat that seems to have stepped from her nurse's most frightening tales."
This book sounds amazing. I love folklore retellings so I'm very excited to join Vasilisa on her adventure. Plus, look at this cover! Its actually the UK edition, and I loved it so much I ordered this book on Book Depository just for that reason. Its already shipped so I know I will be starting this book as soon as it arrives.
View the Goodreads Page here.
5. The Space Between Stars by Anne Corlett

"All Jamie Allenby ever wanted was space. Even though she wasn t forced to emigrate from Earth, she willingly left the overpopulated, claustrophobic planet. And when a long relationship devolved into silence and suffocating sadness, she found work on a frontier world on the edges of civilization. Then the virus hit…

Now Jamie finds herself dreadfully alone, with all that's left of the dead. Until a garbled message from Earth gives her hope that someone from her past might still be alive.
Soon Jamie finds other survivors, and their ragtag group will travel through the vast reaches of space, drawn to the promise of a new beginning on Earth. But their dream will pit them against those desperately clinging to the old ways. And Jamie s own journey home will help her close the distance between who she has become and who she is meant to be…"
Space. Self-discovery. Survival. Grappling with your past. – I'm sold.
Plus, look that UK cover! It's beautiful.
View the Goodreads page here.
**Top 5 Wednesday was created by Lainey from gingerreadslainey on Youtube and is now hosted by Sam from Thoughts on Tomes. There is Goodreads group open to anyone who wants to join in on #T5W fun.